||ORIGINS: The Roots of Soul II Soul|| Deluxe Double Vinyl Live Album, 2016
RIBA / Article 25 ||The Pot Is Melting|| artwork, 2016
Mary Seacole Memorial, Souvenir Programme, 2016
Afro Supa® Hero Brand Platform & Exhibition
198 Gallery Exhibition Branding, 2016
Metropolis Studios, ||Chocolate City London|| Deluxe Vinyl Boxset, 2015
Metropolis Studios, ||Chocolate City London|| Deluxe Vinyl Boxset, 2015
Brixton Advice Centre, Rebranding and Art Installation, 2015
Platform, 25th Anniversary ||Ogoni 9|| Commemorative Artwork & Campaign
||Post-Colonial|| Stamps from the African Diaspora Exhibition, 2011
Keep a Child Alive, ||Africa Vs AIDS|| World Cup Campaign, 2010
NHS Careers TV, Press & Radio campaign, 2004
ICA ||Living Art ' Living Ads|| Campaign, 1997
IBM AS/400 Press Campaign, 1994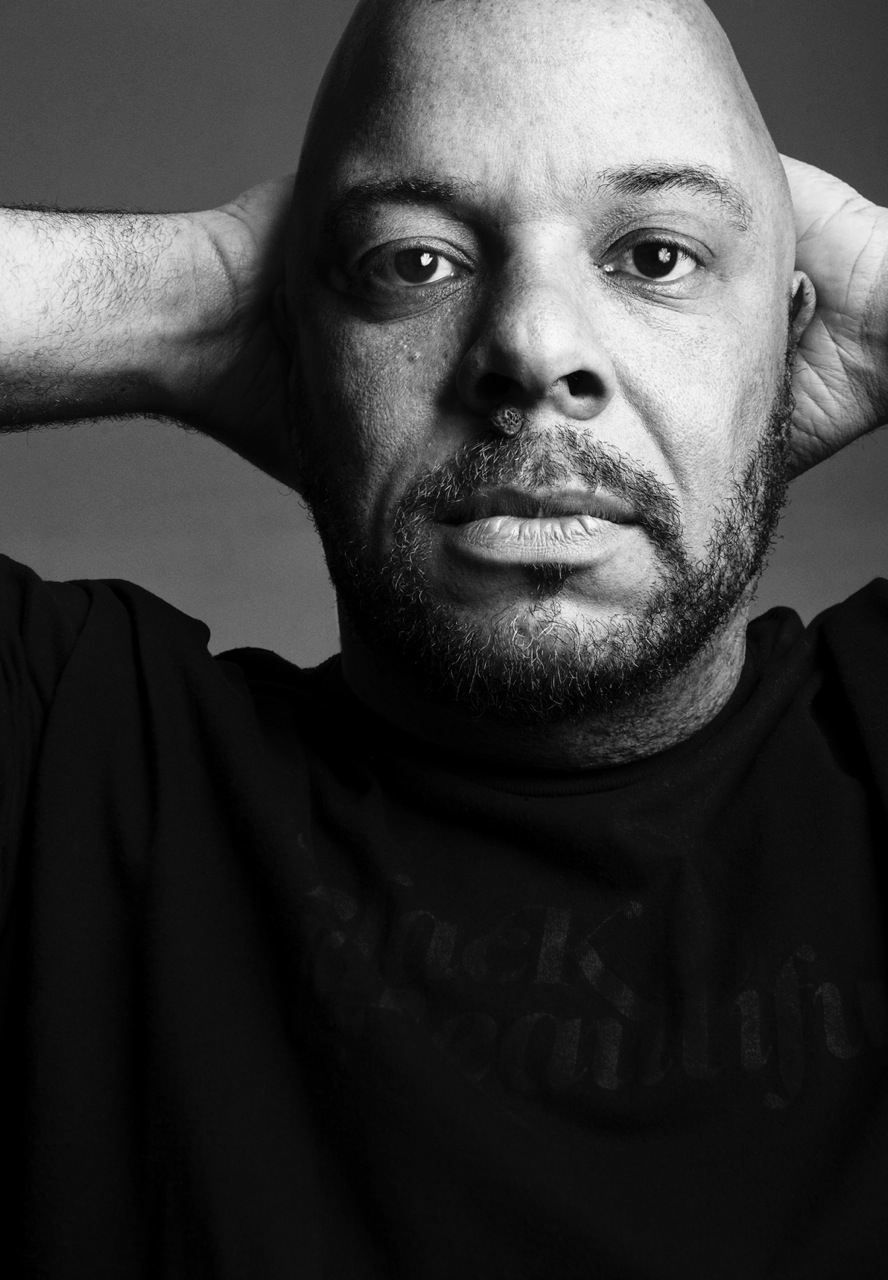 JON DANIEL is a British-born, award-winning creative of African Caribbean heritage. Classically trained as a graphic designer, Jon has worked primarily as an art director for many of London's leading advertising agencies, in a career spanning over twenty-five years. Creating effective and award-winning campaigns for a diverse range of clients including IBM, the COI, the Inland Revenue, The Institute of Contemporary Arts, Philips, Virgin Direct and most notably NHS Careers, which was recognised at the time as the most successful recruitment campaign ever within the public sector.
He has co-founded and served as Executive Creative Director with two creative companies. Headland; a creative partnership. And ebb&flow®, a boutique branding company who produced work for a diverse range of corporate, cultural commercial and governmental clients including the Mayor of London and the GLA; Greenpeace; and groundbreaking charity, Keep a Child Alive, co-founded by Leigh Blake and internationally renowned recording artist Alicia Keys. It is this rare wealth of experience that enables Jon to deliver strong strategic and creative brand ideas, vision and direction across all and any media platforms and environments.
As one of the most prominent and recognised Black creatives of his generation, Jon has always been a strong advocate for the promotion of the rich historical legacy of African diaspora people. And when relevant, has taken every opportunity to ensure that the ingenuity and innovation of works by people of African diaspora heritage are rightfully recognised by the art, design and visual communications establishment.
This ethos is currently most evident in his unique role as a regular columnist for the leading UK design publication, Design Week, where his monthly column "4 Corners" celebrating pioneering, established and emerging creatives from the African diaspora has proved to be a popular fixture in Design Week's editorial repertoire since it was launched in January 2013. But it can also be found in a huge body of work creating campaigns and branding for many of the UK's foremost Black organisations and individuals such as OBV; Ms. Dynamite; Colourful Radio, the Black Cultural Archives (BCA) and Soul II Soul.
Now, alongside his commercial work, Jon has also begun to forge a reputation in the cultural arena. Curating the successful "POST-COLONIAL: Stamps from the African Diaspora" exhibition series with global stamp emporium, Stanley Gibbons; And his AFRO SUPA® HERO exhibition and brand based on his personal collection of Black action figures and comic books, which was first on display at the V&A Museum of Childhood in 2013/14. Based in London, he is married with two children.
Independent. Creative Director. Designer. Artist. Author. Curator. Collector.
AFRONOWISM!
FIVE FUNKY PHILOSOPHIES
I was that kid at school who was always restless. 'Distracted'. 'Boisterous'. 'Excitable'. Just a few of the adjectives that were used to describe me in my school reports.
All this much is true, as I have always had a relentless energy and over-active mind and imagination. I was, and still am a dreamer, and I know that I am not alone in these feelings.
I also have an abiding passion for ideas (both my own and others). And it is this passion that has driven me, to pursue a life as a creative professional in design and advertising; a collector and curator of Afro-pop culture; a columnist and more recently as an independent creative director and artist.
So in a humble bid to inspire and share with my fellow creatives, what I feel has been useful to me over the years, I offer you five principles that I try to live and design by, and which constitute my 'AfroNOWism' idea-ology:
1. SEIZE THE TIME! These words became one of the mantras of the Black Panther Party for Self-Defense, as coined by co-founder Bobby Seale. Together with Huey P. Newton, they created a grass-roots movement that inspired generations of people all over the world to take action and fight for their human rights.
Someone once told me, you're more likely to regret the things in life that you don't do, rather than the things that you do.
So what's stopping you? I'm not saying don't look before you leap, just be intelligent about your actions. The key to selling a concept, dream, idea or ideal is all in the ARTiculation.
2. IF YOU AIN'T GONNA GET IT ON, TAKE YOUR DEAD ASS HOME. This P-Funk lyrical phrase, was coined by one of my greatest Afro Supa heroes and sources of inspiration.
P-Funk is a complete and entire culture that manages to philosophically and aesthetically bind together a giant funk gumbo of; music and musicians; art and artists; and a plethora of super-cool funkativity masterminded by the most magnificent godfather of Funk, George Clinton.
Fusing the greatest musicianship with black social commentary, psychedelia, sharp, satirical lyricism and general Afrofuturistic, cosmic creativity, it has informed my 'through the line' thinking and approach to branding and campaign communications on many an occasion and inspires me to bring my best game to all I do.
3. UNDER-PROMISE. OVER-DELIVER. When working with clients, one of the key virtues I've found is always to be attentive. As in life and friendships, listening is key. Be intuitive, and above all be honest. If you are confident and skilled at what you do, then you shouldn't need to over-sell yourself. It's far better to create a relationship based on honesty and mutuality, rather than one based purely on expectation and exploitation. Prepare both yourself and your client for whatever can happen and you'll come back with ideas and designs that are resonant, robust and therefore deserving of reward and recognition.
4. FORM FOLLOWS FUNK. In design, there is an old adage that 'Form Follows Function'. It's a principle that I also believe in and adhere to often. But in freeing myself more and more of the constraints of working primarily with commercial and corporate clients and now adopting a more personal artistic approach I've also found the joy in creating things fuelled much more by instinct than instruction. Designers tend to be quite anal. Well "free your ass and your mind will follow". Now I trust myself that the wealth of experience that I've gained, will translate instinctively in anything I do. I question myself less and just let things flow. If it looks right, and it feels right (to me), it can't be wrong.
5. BOX OUTSIDE THE THINK. Be Brave. Be Bold. Believe in yourself and fight for your ideas. Keep your eyes on the prize by constantly moving, bobbing, weaving and learning how to create and build momentum by exploiting the gaps between the question and the answer. You'll triumph in the end.

Classically trained as a graphic designer, Jon previously worked for many of London's leading advertising agencies, creating effective and award-winning campaigns for a diverse range of clients including IBM, the COI, Drink Drive, The Institute of Contemporary Arts, Philips, Virgin Direct.

Visual Intellectual is the platform where Jon shares his personal thoughts and ideas around art, design and visual communication. A place where he can recognise the work and ideas of creative thinkers of the past and the present. And celebrate the things that inspire his own creative direction and journey.

The culmination of a lifelong passion for poster design, The PStore is a dedicated, online environment where you can purchase the graphic poster artwork of Jon Daniel. Based on his signature bold and minimalist iconographic style, exclusive commissions are available on request.

Jon's role as a columnist was launched with Design Week, the UK's leading design news platform, in February 2013. His concept "Four Corners" is the first regular column of its kind by a mainstream publisher, to highlight the contribution of pioneering, established and emerging creative professionals from the African diaspora.

An online exhibition of Stamps from the African Diaspora, the first 'real world' exhibition of Jon's unique collection took place between 1st and 29th October 2011 at Stanley Gibbons, 399 Strand, London, WC2R 0LX. The collection, was originally inspired by the lyrics of rap group, Public Enemy's track, 'Fight The Power'.